On March 12, 1365 Duke Rudolph IV (the Founder) founded the University of Vienna. It celebrates its 650th Anniversary in 2015. For 650 years we have been constantly raising questions. Rector Engl hopes that you join us in our 650th anniversary celebrations.
In the anniversary year the University of Vienna opens its doors to the public to show the variety of its disciplines, degree programmes and research projects, and to look into the future and contemplate the past: In addition to ceremonies, lectures, conferences, exhibitions, concerts and performances some events are dedicated to coming to terms with the University's twentieth-century history. Look inside the Anniversary Event Calendar (in German)! Do you want to request a programme brochure free of charge? Please send an email to jubilaeum@univie.ac.at.
The 650th Anniversary is marked with a variety of events throughout the year. The events range from the New Year's Concert 2015 – the Main Building of the University of Vienna was the backdrop for a ballet shoot – to the solemn opening of the anniversary year on 12 March 2015 and the Campus Festival in June. Check out some of the highlights here!
The anniversary exhibitions in 2015 cover selected aspects of the University's past 650 years: the development and architecture of the University of Vienna, the far-reaching consequences of the Nazi seizure of power as well as research and teaching in natural sciences from 1755 onwards. Click here for an overview of the entire range of exhibitions listed in chronological order.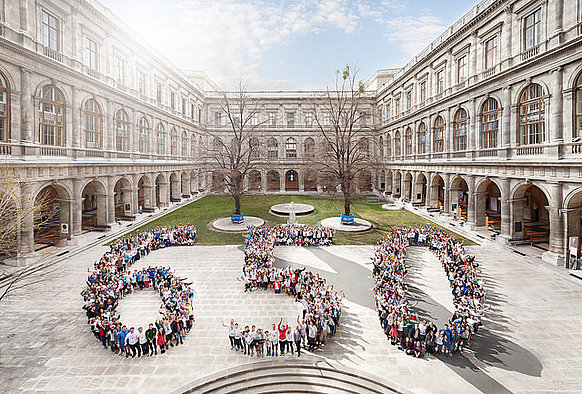 For more information, please visit the official 650th Anniversary Website